Call of Duty: Warzone Pacific and Vanguard will soon be launching Season 3. We reveal everything you need to know about the release, new weapons, map changes and more.
Season 3 for Call of Duty: Warzone and Vanguard is on its way and offers the usual extensive content package. In Classified Arms there is a conflict with two very big movie monsters, there are big map changes for Caldera, a new Gulag and of course new weapons again. We summarise all the information for you in this article.
Contents List
Release: When does Season 3 of Warzone start?
Size: How big will the download be?
Weapons: Which ones will be new?
Map: What all changes on Caldera?
Gameplay: What gameplay innovations are coming?
Event: What is Operation Monarch?
Operators: These characters are new in Season 3
What's new in Call of Duty: Vanguard?
All info on CoD Warzone – Season 3
For a brief overview of all the changes confirmed so far, check out the roadmap, which highlights some of the major additions: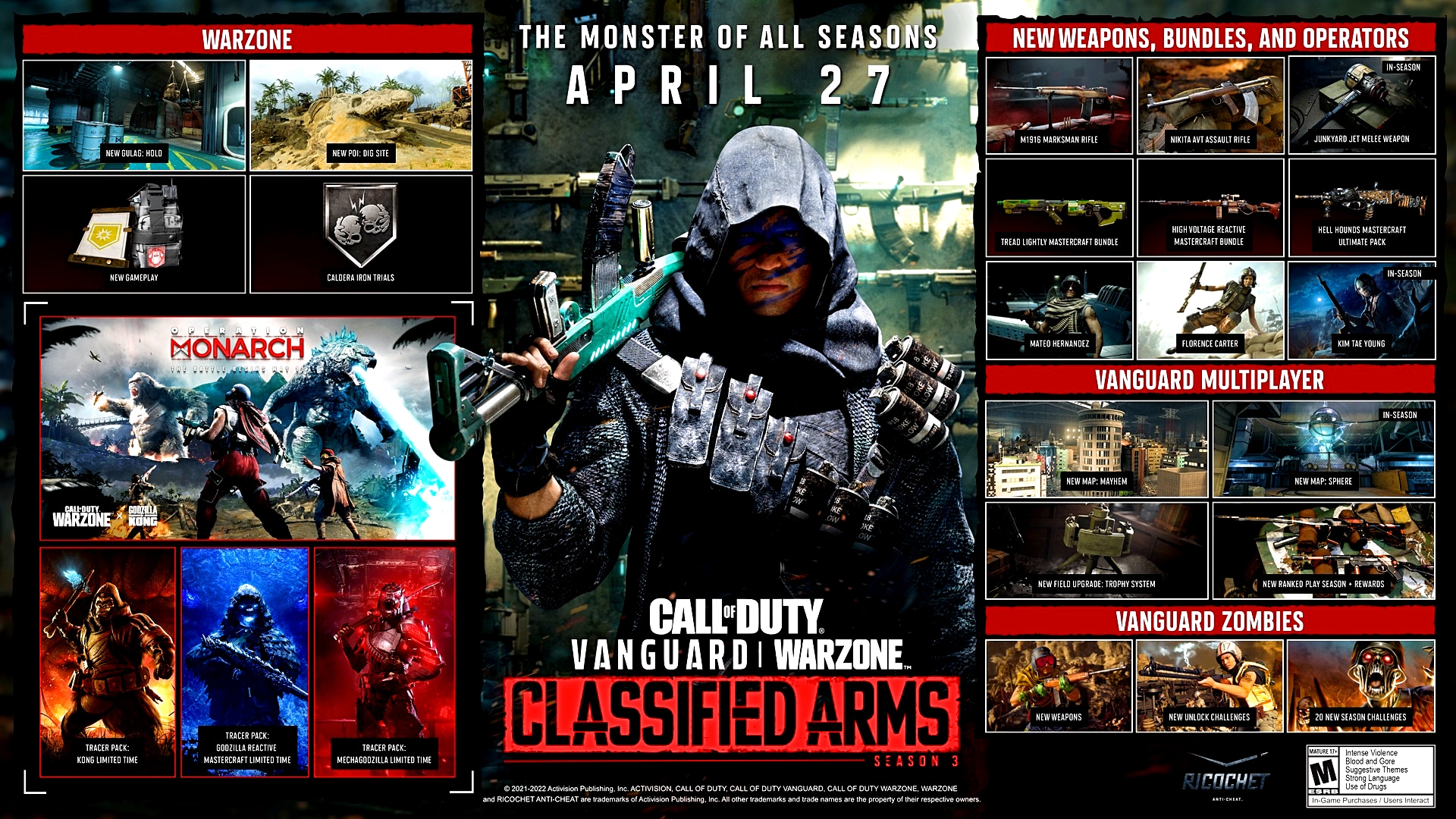 Release: When does Season 3 of Warzone start?
The starting signal is not long in coming: Season 3 for Call of Duty: Warzone will be launched on 27 April 2022 at 6 pm. Until then, you can shorten the waiting time a little with the cinematic trailer:
For Call of Duty: Vanguard it already starts 24 hours earlier. Here, Season 3 will be available from 26 April 2022 at 6pm. There is no end date for Season 3 yet, but the new season will probably last about eight weeks again.
Size: How big will the download of Season 3 be?
There is no official information about the size of the Season 3 download yet, but we will keep you updated as soon as the developers reveal this information.
However, it is already known that Call of Duty: Warzone and Call of Duty: Modern Warfare will be bundled together on the consoles with the start of Season 3. As a result, the download on the PlayStation and Xbox consoles will be somewhat larger, but will subsequently require less storage space due to new optimisations.
By the way: We now know that Activision is working on Warzone 2. You can read all about it in our article:
CoD Warzone 2 to come as early as 2023 and be a whole new game
Weapons: Which ones are new?
What would a season of Warzone and Vanguard be without new weapons? For this reason, there are also new additions to the armoury in Season 3. As in Season 2, there are again three new shooting irons and a new melee weapon. The details:
M1916: A semi-automatic rifle (DMR), which is available at the start of the season.
Nikita AVT: A new assault rifle that will also accompany the start of the season.
Attack Hammer: A new melee weapon that will be implemented during the season.
H5 Blixen: Mid-season, this new MP will be added and will be unlocked either via a challenge or purchase in the shop.
Map: What's all changing on Caldera?
After the first changes to Caldera with Season 2, there will be some new additions to the Pacific map of Warzone with Season 3. With the Dig Site, for example, there is a completely new area, while other areas will be reworked a bit.
(~) Dig Site: The new dig site is located between the mines and ruins and lets you rob countless tents. You're also guaranteed to stumble across a skeleton or two there, the origin of which you might not want to worry about too much.

(~) Peak: The volcano peak changes quite obviously, because here the developers have strengthened the buildings and also repainted them visually.

(~) Runway: This location gets a few new buildings and a removal of the jungle, which should make the area more manageable overall.

(~) Lagoon: The storm surge on Caldera ensures that more ships are docked here. In addition, there is another way to the lighthouse.
Gameplay: What gameplay innovations are coming?
With the upcoming Season there will be a new Gulag. The new zone called Hold (cargo hold) is a symmetrical arena in the middle of a stranded ship. The space in the middle is quite open, while there are a few covers on the sides.
With the already confirmed mid-season update, there will also be some changes on Rebirth Island. However, there are no details about this yet.
The same applies to Caldera's underground, which will open up in the course of the season. According to the developers, there will be some secrets lurking there. Apart from a first teaser, there is not much more at the moment:
The island's surface is no longer safe. When they go high, we go low. pic.twitter.com/2xOvaIDOrD

– Call of Duty (@CallofDuty) April 18, 2022
Event: What is Operation Monarch?
A huge crossover event awaits you in Season 3 – literally, as Operation Monarch will bring both King Kong and Godzilla into the game starting May 11.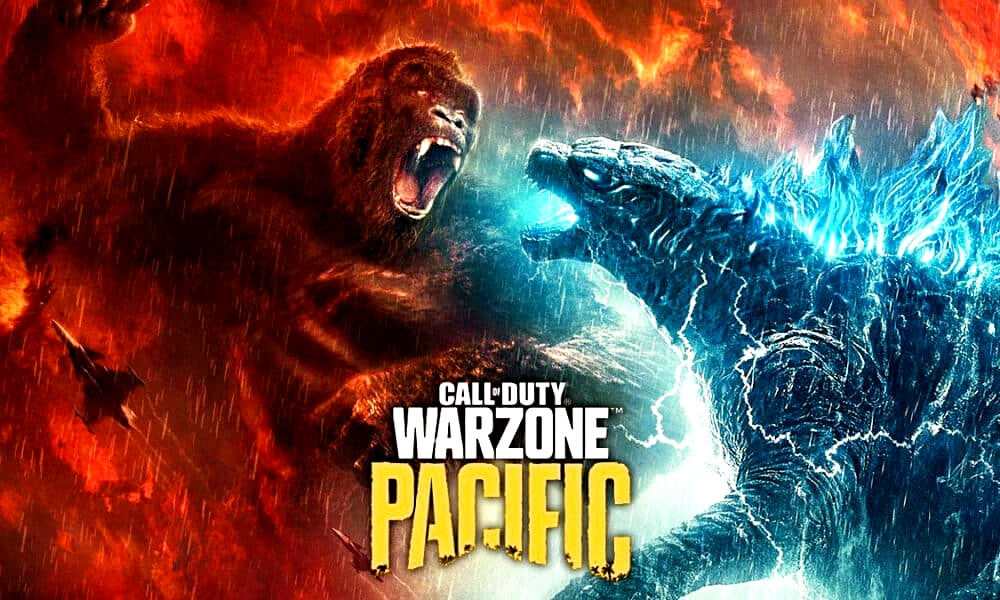 The developers are still keeping quiet about how exactly the event will take place. From the description so far, however, it is clear that the two titans of the so-called MonsterVerse will make Caldera unsafe in some way.
In addition, there will be a new game mode for squads of 4 with Operation Monarch, in which there will be a titan-sized twist. Details on this are to follow soon.
Operators: these characters are new in Season 3
As in the previous season, there will be three new operators in Season 3. These are the following fellows:
(~) Mateo Hernandez: You will automatically unlock the American on level 0 of the Battle Pass if you purchase it.
(~) Florence Carter: The young pilot will only be added to the game during the season and will probably only be available in the shop.
(~) Kim Tae Young: The vigilante hides her face behind a mask and will join Call of Duty's operator pool mid-season.
All info about the Battle Pass
Not a big surprise, but the Season 3 of Call of Duty: Warzone and Vanguard will again offer a Battle Pass. As usual, it will offer 100 levels and cost a total of 1,000 CoD Points, i.e. around 10 euros.
There are no details about the content yet. Based on the previous seasons, you can expect new cosmetics, such as skins or stickers, and instant unlocks of operators and weapons.
What's New in Call of Duty: Vanguard?
(~) Also Call of Duty: Vanguard will be served with Season 3 with innovations and content for the multiplayer and zombie mode. Here is a quick overview of the most important announcements:
(~) Two new maps: Mayhem (1950s movie setting with battles in tight spaces) is coming at the start of the season, while Sphere (coal mine that is actually a weapons lab) will follow later in the season.
(~) New gear: Trophy system from previous CoD games and Warzone comes to Vanguard, allowing you to deflect frag grenades, sticky bombs and stun grenades.
(~) New Ranked Season: In the new Ranked Season, you can earn two fully configured weapon blueprints, as well aso two new camouflages.
(~) What's New in the Zombie Modus: There's not a lot of fresh meat in terms of content, but you can prepare for new seasonal challenges and earn the KG M40 and Whitley weapons from Season 2 through challenges.
All Season 3 changes for Call of Duty: Warzone and Vanguard can also be found on the (official blog) of the developers.
King Kong and Godzilla in Warzone: Will the big crossover event lure you back to Caldera or will Call of Duty: Vanguard with Season 3 leave you cold? And what do you think of the gameplay changes for the upcoming season? Drop us a line in the comments and let us know what you think!