by in
For the worldwide release of the new Call of Duty: Black Ops Cold War on November 13th, we have summarized for you all confirmed weapons. The new content will also be unlocked for Warzone.
After it was announced that the free Battle Royale mode would also be integrated into the Cold War expansion, we recently received a message from the developers telling us that this integration might take place as early as November 13th. That would be almost a month before the planned merger, which was originally scheduled for December 10th.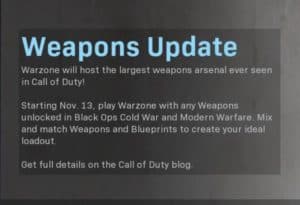 The way Activision is worded may indicate that the weapons in question need to be unlocked in Black Ops Cold War or Modern Warfare in order to use them in the free Warzone game. Thus, players who only play Warzone would not be able to access the new weapons. There is no confirmation from Activision yet.
These are all confirmed weapons so far
Here you can see which weapons will be available to you.
Assault Rifles (Primary)
– XM4
– Crown 6
– AK-47
– QBZ-83
– FAMAS
– OTs-14 Groza
SMGs (Primary)
– MP5
– Milan 821
– AK-74u
– KSP 45
Tactical Rifles (Primary)
– M16
– Type 63
MGs (primary)
– RPD
– stoner 63
– M60
Sniper (Primary)
– LW3 Tundra
– Pelington 703
Pistols (Secondary)
– Diamatti
– Colt 1911
– Magnum
Shotguns (Secondary)
– Gallo SA12
– Tusks 77
– Striker-12
Rocket launcher (secondary)
– cigma 2
– RPG-7
– M79 "Thumper" Grenade Launcher