by in
Fans of TFT have waited almost a year for this announcement from Riot Games. Now it is certain that a new global tournament in the LoL universe will come true. With the Teamfight Tactics: Galaxies Championship the prize money is 200.000 US Dollar.
Teamfight Tactics caused a real boom with its release in June 2019, when Riot Games' Auto Battler, a game mode of the hit title League of Legends, set new records for player numbers. In the meantime, almost 80 million people have engaged in countless battles in TFT. Accordingly, there was a great demand for a championship. Last Monday, the wishes of the community were heard.
Wanted: The top 16 in the world
Meanwhile, the structure for the Teamfight Tactics: Galaxies Championship is fixed. Riot Games announced this officially on lolesports on Monday. According to this, 16 players can qualify for the final phase of the championship. The majority of the final participants will be from Europe and China with three players each. All in all there will be tournaments and ladder matches.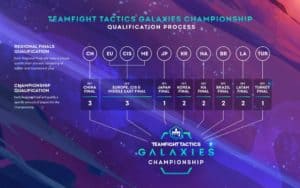 In North America, where the two best players qualify for the global finals, the final will be held in mid-August. The first ladder tournaments will start in early May. Online tournaments will start later, an exact date was not announced in the announcement.
Riot Games promises new incentives and goals for players
David Higdon, Riot Games Global Head of Communications Esports, already announced via Twitter that there will be three events and the final during Set 3 in Korea. Players who have reached at least the Diamond rank are eligible to participate. Tournament details are still pending for Europe.
"With the FTF Galaxies Championship we want to reward all those players who invest time to master TFT," writes David Higdon. The tournament should give the players more motivation than just reaching the top of the rankings.
Because Teamfight Tactics can be played on both PC and smartphone, specific qualifying conditions arise, which differ regionally. Next week, the modalities will be published in the official "TFT Community Competition Guidelines".