by in
Finally, there is an update to League of Legends: Wild Rift. In a short video, Riot Games gave the fans new information.
In the developer diary, design leader Brian "Feralpony" Feeney gave a short update on the status of Wild Rift:
Champions should feel "right"
The main focus of the update was on some of the problems the developers encountered with the mobile phone port. It was important to them that despite the new platform, the champions still feel like they do on the PC. However, they still had to adapt to the requirements of the control system on the mobile phone and therefore spent a lot of time and effort on finding the right balance.
Therefore, some of the features were revised, among others Annies Disintegrate or Miss Fortunes Double Up. Also Silver Bolts from Vayne was changed, so that the ability is not only passive. But with other champions this was unnecessary. As examples, Riot mentioned Orianna, Nami or Ziggs, which should feel exactly like on the computer.
Other revised abilities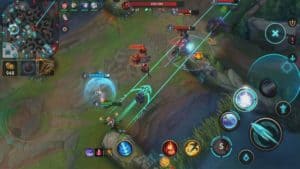 However, Wild Rift will not be based entirely on the PC version. The announcement trailer already showed that Ashes Crystal Arrow in Wild Rift can still be controlled in flight. Another revelation in the latest video is in the same groove:
Final Spark by Lux will have global reach in Wild Rift, so you can target your opponents from one end of the map to the other.
No release date announced
Those who had hoped that a release would be coming soon were unfortunately disappointed. Brian Feeney didn't give a concrete date and reminded players again not to install apps of dubious origin, there is no playable version yet. Riot Games needs more time to continue into the next round of testing.
As an announcement there was only the hint that "later in the year" they would come back with another update.
What do you think of the new information about Wild Rift? Tell us via Facebook, Twitter or Instagram!