by in
Riot Games continues to share more information about Season 11 in League of Legends. In addition to a completely reworked item system, numerous champions will also be changed.
As the year draws to a close, the end of the tenth League of Legends Season is fast approaching. Riot Games has already announced a number of changes for the preseason, which begins in November, and these changes are continuing to grow. Already in September, the development studio teased a revised and two categories expanded item system, for which details are now known.
Own mythic items for each champion category
Mythical and Legendary items will be introduced as completely new item categories in the League of Legends preseason. While the mythical items will be limited to one per champion per game, they will also be tailored to each champion category: There are sniper myths, tank myths, assassin myths, and so on.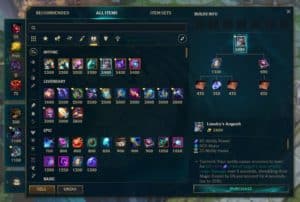 The items are coordinated so that they can counter the item of the respective counter champion. For example, for a 3,400 gold value, highly skill-oriented characters can purchase "Liandry's Anguish", whose damage is augmented by a percentage of the maximum health of the opponent's tank when activated.
What's New for Champions in the Eleventh Season
Riot Games Champion Designer August "August" Browning posted all the preliminary changes to the Champions on Twitter at the start of the six-week PBE testing phase of the new preseason:
According to August, highly Worlds-relevant champions like Caitlyn, Jhin and Senna will experience some nerfs in the upcoming season. Interestingly, Yasuo and Yone are being buffed in the same move, although they were criticized by the community for a while in the last season as being far too strong.
In contrast, Viktor, for example, who was forgotten for ten long seasons, will be made relevant to the game again through generous buffing. August adds in his documents, however, that all changes he reveals in advance are not yet set in stone. Therefore it is probably still a test phase, which is only accessible on the PBE servers.