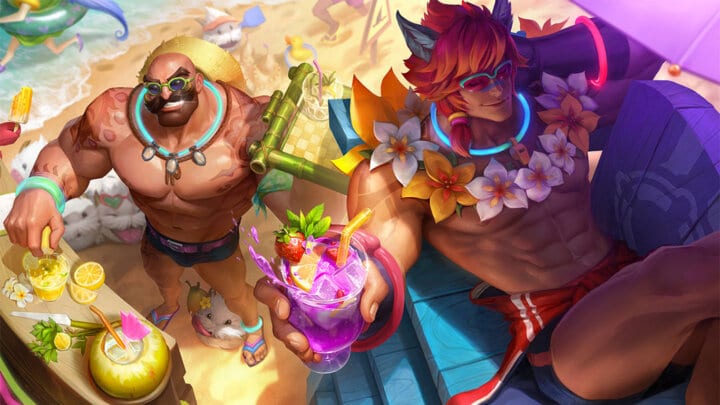 LoL Patch 11.12 is already in the starting blocks: New Pool Party skins for Braum and Sett may already prove themselves on PBE servers. The update for champion Dr. Mundo is also already being tested.

No sooner has patch 11.11 gone live in League of Legends than the first innovations for the upcoming update are announced. Two new pool party skins for the champions Braum and Sett are already playable on PBE servers. If that's not another side of the hot tub meta . An extensive update for Dr. Mundo is also already being applied here. If the new features survive the testing phase, they will come to the live servers on 9 June in patch 11.12.
Muscles and Sea
Braum and Sett join the wet and happy series with their latest skins. Supporter Braum trades in his impressive shield for a cocktail bar in a beach outfit, while Sett makes himself comfortable on the lifeguard seat. As usual, the beach versions of both champions receive specific animations, which can already be viewed on Twitter. Before the two powerhouses, Zoe, Zac, Caitlyn, Orianna, Gangplank and Dr. Mundo, among others, were also able to enjoy a pool party skin.
News from the doctor

Jungler and top laner Dr. Mundo will receive an extensive rework in the upcoming Patch 11.12. All of the champion's abilities will be reworked in this patch – both visually and in terms of content. Riot Games has already announced detailed information on the doctor's new abilities.
Dr. Mundo's VGU is coming in patch 11.12! Learn more about the medical techniques the Madman of Zaun uses to "treat" his patients in his abilities rundown🧟

➡️Details here: https://t.co/yBNRvJjH66 pic.twitter.com/qgY5hlDko7

— League of Legends (@LeagueOfLegends) May 25, 2021
In the course of the update, ten of Mundo's skins will also receive some general changes in addition to his animations. Among them is also Pool Party Mundo – so another reason to turn your attention to the beaches of Bilgewater in the next patch.