With Millenia, Paradox wants to give you a 4X global strategy sandbox with which you can rewrite and continue to rewrite the history of mankind.
If you're a strategy fan who hears about Paradox, you know what to expect: complex, far-reaching games that let you write stories in a wide variety of scenarios. And the latest announcement from the Swedish publisher also hits this note: With Millennia they are striving into a new genre: 4X global turn strategy. The release is scheduled for sometime in 2024.
Who is behind Millennia?
C Prompt Games is an independent studio that has united several personalities of the gaming industry under its umbrella. The company was founded by Robert Fermier (a programmer of the System Shock series) and Ian M. Fischer (lead designer of Age of Empires 2 and Age of Mythology.
Art director is Brian Sousa. He led the art direction for Warcraft 3 Reforged and StarCraft Remastered. He has also worked on numerous other Blizzard projects, including World of Warcraft and StarCraft 2.
What is Millennia?
At its core, Millennia follows the classic formula of guiding a growing group of people from the time of the tribes, through the first cities, and into our future. You form your own nation, found cities, wage wars, research, let your culture blossom and maybe even colonize other planets at some point. At the very least, the developers hint that space travel will also be part of the experience.

Strong focus on narratives: Millennia wants to move away from experiencing our or alternative world history Paradox-typically also the narratives arising from the gameplay in the foreground.
Economy for the win: In contrast to other genre representatives, Millennia also wants to give more weight to the economy. You decide specifically how to create advanced products from simple resources. Thus, trade and supply routes across the map should also have great importance.

Nation Spirits: With the help of the so-called Nations Spirits you determine the path of your grouping. You select these as the gameplay progresses, and in this way forge your playstyle for that game. Somewhat, though far more granular, this is similar to the system of selecting countries when switching eras in Humankind.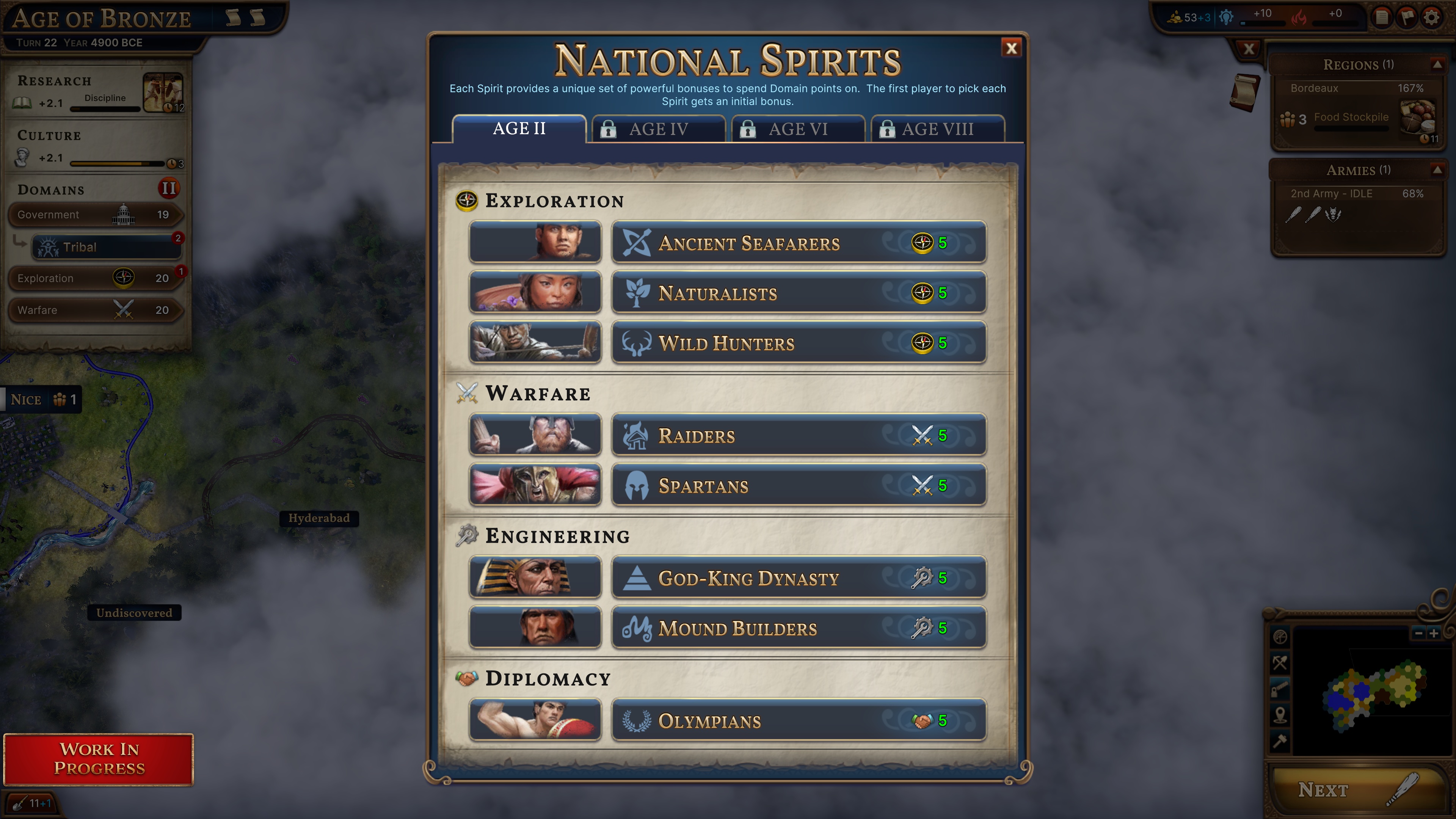 Variant or crisis age
A special aspect of Millennia are the variant or crisis ages. These are triggered by certain actions of nations. The former are alternative courses of history that overturn the traditional picture of the actual upcoming epoch.
New Ages, New Rules: With them, not only new technologies and units enter the game, no, new rules also mix up the action. As examples of such ages the developers name cloud cities in Age of Aether or underwater cities in Age of Utopia
Age of Crisis: Those who behave too violently threaten to plunge the world into an era of blood. Unstable states, plagues, and distrust characterize events in these dark decades.
What happens shapes the world: Nor are the eras meant to be simply passed through and then forgotten. In the long run, they should still cast their shadows on further events and the image of the earth.
Whoever is interested in global strategy in general should definitely not miss Microsoft's attempt at the genre: Ara: History Untold, another exciting competitor to the Civilization series and Humankind, is coming in 2024. You can watch our preview video above.
What do you think of the first pictures and information about Paradox's attempt to venture into a genre they haven't tackled before? Does Millennia look like something exciting? Or does this first snippet of impressions do little to convince you? What do you like or dislike the most? Feel free to write us your impressions and opinions in the comments!