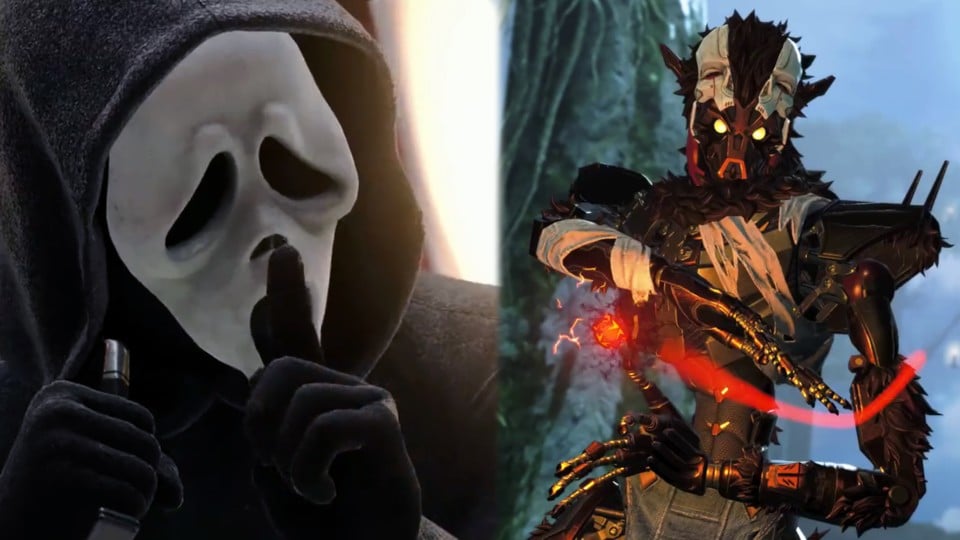 Halloween is just around the corner and in many games there are matching modes and skins again. We show you the best Halloween Events 2021.
It's that time of year again: Halloween is just around the corner and many multiplayer games will be revolving around spooky events in which you can win scary skins and other rewards and experience new game modes.
We've rounded up the coolest events you can take part in on Halloween 2021 and told you exactly what you can expect to find there.
Call of Duty: Warzone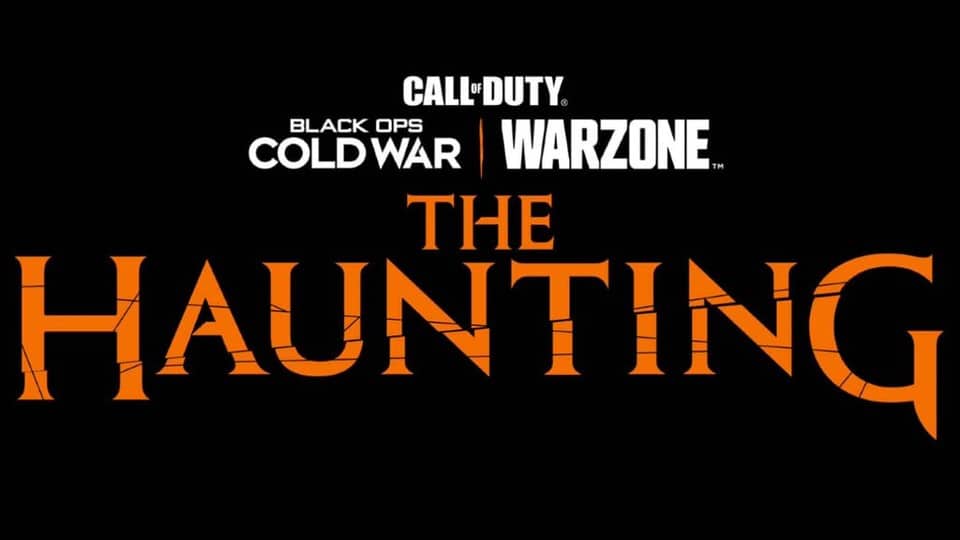 The Haunting returns to Verdansk again this year. Apart from the start date, however, there is still no official information about this year's Warzone Halloween event. Presumably, however, the popular night mode will return.
According to initial leaks, a total of 19 new challenges will be added to the game. Those who complete all of them should be able to unlock the new LAPA submachine gun, which can be used in Warzone and Black Ops: Cold War.
Shhh… the scares begin on 10/19. https://t.co/JrjWqaIDcf pic.twitter.com/Hk1q5SJG8g

– Call of Duty (@CallofDuty) October 6, 2021

There will also be some cool Halloween skins available for purchase again: This year Ghostface from Scream and the bunny Frank from the horror masterpiece Donnie Darko.
Fortnite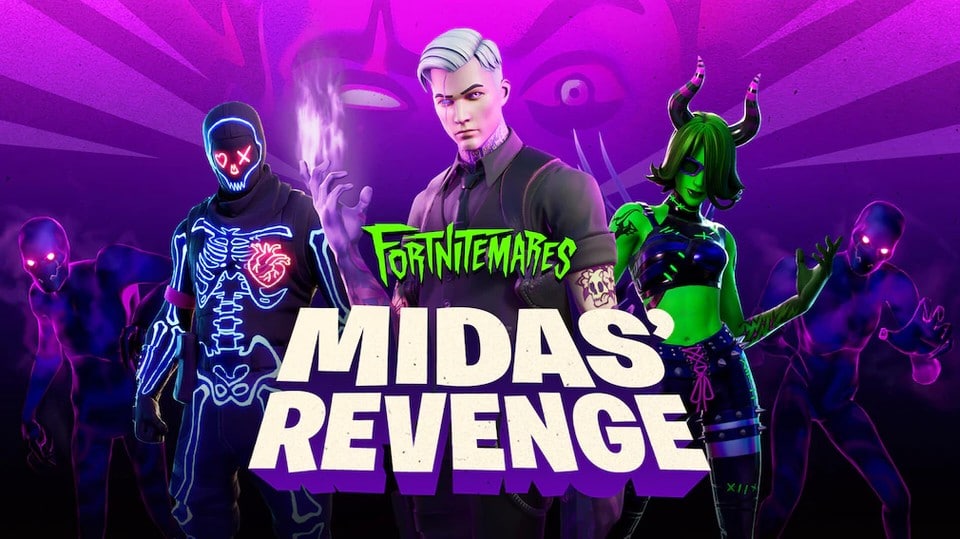 Fortnitemares are coming up again this year in the popular Battle Royale Fortnite: Among other things, new weapons can be found in the game, the Double Scourge Fighters. You can discover these Akimbo crossbows in crates or simply on the ground.
Times have been tough, and we've been missing a leader like Rick.

Your survival skills grow with the Rick Grimes Outfit, now added to the Survivors In Arms Set! pic.twitter.com/sYepSHHTE7

– Fortnite (@FortniteGame) October 12, 2021
In addition, there are numerous new skins available in the in-game shop: Among others, classic monsters such as Frankenstein and the Mummy from the Universal horror films or Rick Grimes, the protagonist from The Walking Dead.
The Elder Scrolls: Online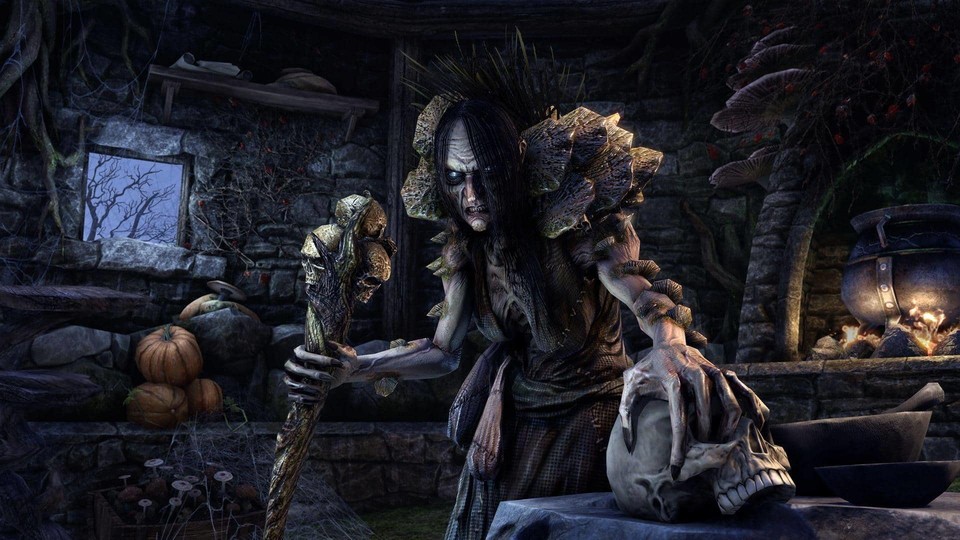 In The Elder Scrolls Online, the popular Witches' Festival awaits you again in 2021. As every year, there are special quests and boss fights where you can earn event tickets. These can be spent on exclusive skins and cosmetic customisations. There will also be limited-time special offers in the Crown Shop again.
Apex Legends
At Apex Legends, the motto this year is Monsters Within: Not only will there be special Halloween skins for Seer, Bloodhound, Revenant, Caustic and Loba in the store, but also the popular Shadow Royale mode again. After dying, players return as shadows and can take revenge on their enemies.
Hunt: Showdown
Hunt: Showdown is also getting a Halloween event this year. Nothing is known yet about the content or the start and end dates. All we know at the moment is that it will be called The Harvest.
Dead by Daylight
October is the perfect month to play the already creepy PvP game Dead by Daylight: The whole month is packed with special events and streams where rewards and blood points are up for grabs again. In addition, a new survivor, the witch Mikaela Reid, is appearing this month.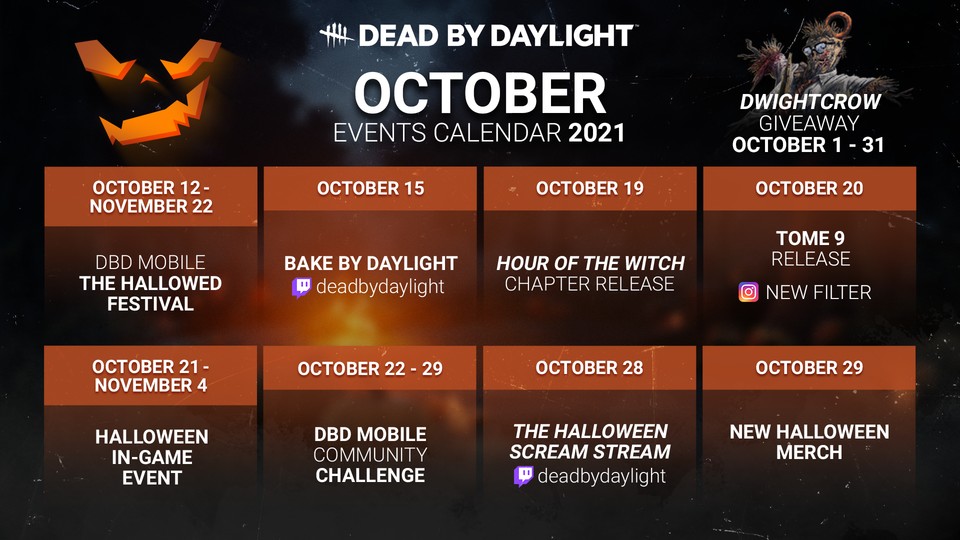 Overwatch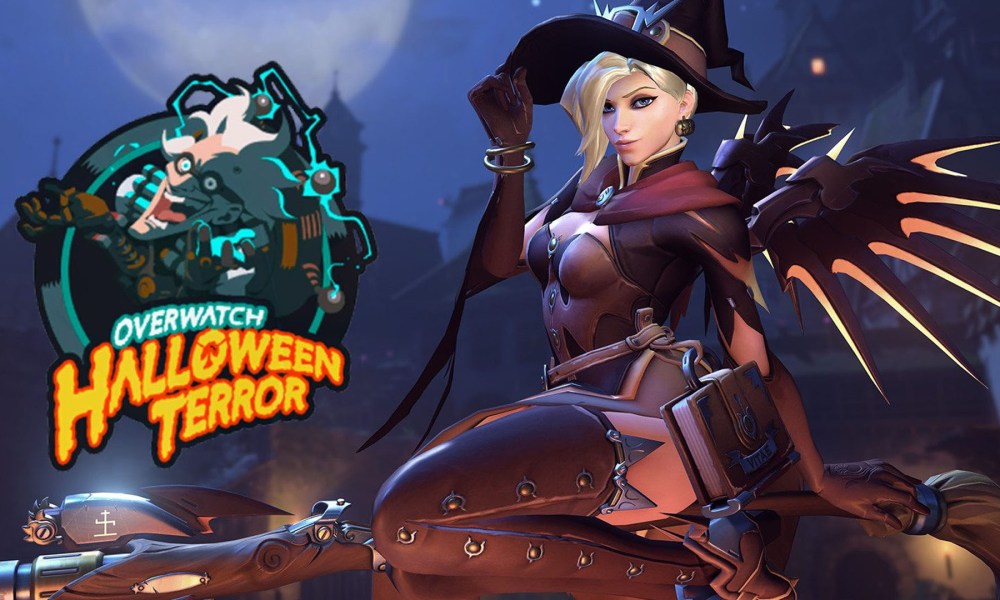 As always, Overwatch is back for Halloween Horror 2021, where you can take down zombie robots and boss monsters in Junkenstein's Revenger mode, while new skins await you in the lootboxes – including a clown outfit for Roadhog inspired by Pennywise from Steven's Kings ES.
Scared yet? 🎈

Overwatch Halloween Terror returns Oct 12! pic.twitter.com/2Pz9u4jmTq

– Overwatch (@PlayOverwatch) October 10, 2021

World of Warcraft
The annual Halloween event, the Goblin Nights, are returning to World of Warcraft: The Headless Horseman can be hunted down once a day for the chance to win rare loot, and there are also numerous quests and challenges to collect candy.
Rainbow Six Siege
Rainbow Six: Siege brings you the popular game mode Doctor's Curse again this year: In this 5-versus-5 hide-and-seek game, a team takes on the role of hammer-wielding hunters who go in search of monsters. These have to hide or can defend themselves with traps.
Weapon skins and pendants await you as rewards if you can complete the weekly challenges. In the in-game shop you can also buy special skins for the operators.
If you know of any cool gaming events for Halloween, please let us know in the comments. Are you looking forward to the scariest time of the year?