by in
With a new week comes a new update in Modern Warfare. This time there is a new operator and game mode.
Also in season three there are new playlists in Modern Warfare every week to keep the multiplayer fresh. But this week there is a little bit more than the change between Rust, Shoot House and Shipment.
Operator number three
Iskra is the third operator in season three. As in previous seasons, Iskra will not be available for free, but will probably cost 2400 COD points.

In the package you will get a new finishing move as well as weapon and helicopter skins. Similar to Mace, the new blueprints have splatter effects when killing enemies.
New game mode
A highlight in the new rotation will be the 3v3 knife only mode. On the Gunfight maps, you can bring your team's opponents to despair in close combat. For real pros there are also throwing knives, but you have to hit them first.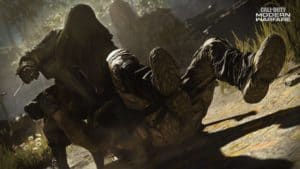 Otherwise, Shipment 24/7 will be replaced by the "Shoot the Rusty Ship 24/7" playlist. Here Shipment, Rust and Shoot House rotate in a playlist. The Demolition mode from the last rotation is retained for the time being.