According to leakers, Chapter 3 of the Battle Royale Fortnite is set to launch as early as December. Hints also point to new game mechanics.
Dataminers have found hints of the upcoming Chapter 3 in the game data of Battle Royale Fortnite. In addition to a special event, a new sliding mechanic could be implemented.
Chapter 3 is set to begin on December 7, according to the dataminers. As Fortnite leaker HYPEX revealed on Twitter on Tuesday, a hint of an event at the end of Chapter 2 was found in the game's files. This is allegedly simply called "The End". Furthermore, a loading screen was found with text that reads, "The finale of Chapter 2. Saved, loaded and ready for the final showdown." The screen shows the activated pyramid and the queen of cubes hovering above it.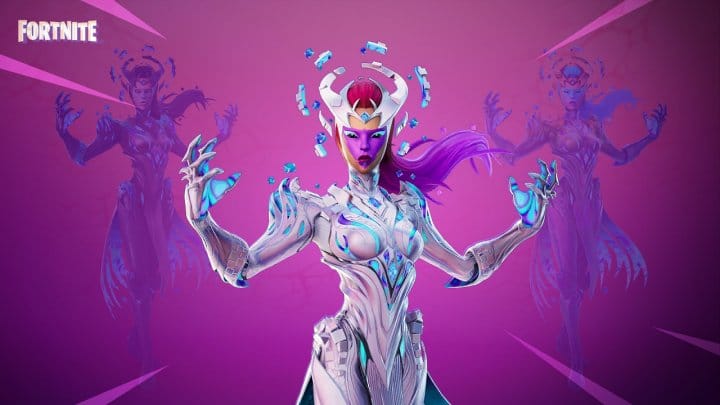 According to further leaks, the entire map will be taken over by the Cube Corruption. The queen will supposedly cause a hole in the island into which the players will fall. What is waiting in this hole, however, is still unknown.
THE EVENT PLAYLIST IS CURRENTLY CALLED "THE END"!!! (via @InTheShadeYT) pic.twitter.com/GFlEEM0sYV

– HYPEX (@HYPEX) November 16, 2021

Is a sliding mechanism coming?
Eventually, a sliding feature could also come with the new chapter, allowing players:inside to slide around on the floor. The feature is already in the game files, but is not yet activated. A character on a tweet from Fortnite Competitive on 16 November is shown in a pose that strongly suggests a sliding feature. Additionally, the character is holding a gun in his right hand and a grenade in his left. This is not possible in the game itself, but could also be an indication of a new feature.
However, the pose could merely be artistic licence and have nothing to do with the actual game. Developer Epic Games has not yet officially commented on the theories. However, the sliding mechanic could certainly mix up the gameplay and enable new tactics in battles.
Victor Elite is up for grabs in the Grand Royale Community Cup! Be one of the top performers in your region to earn this outfit. Competition starts today in Brazil, NA East, and NA West.

Oceania, Asia, Middle East and Europe will compete tomorrow, November 17 pic.twitter.com/YTAlVre3Mb

– Fortnite Competitive (@FNCompetitive) November 16, 2021