Salah hat-trick, shoot-out at Stamford Bridge and ex-Bayern star Alaba with an important goal for Real. That and much more in our prediction for TOTW 6.
El Clásico in Spain, top duel in the Premier League and also in the German Bundesliga there was a lot going on. All in all, the past weekend had one or two tidbits to offer. But what can you expect on Wednesday in the Team of the Week? With a 90+ inform as well as two OTW candidates, our prediction doesn't look too bad.
Prediction for TOTW 6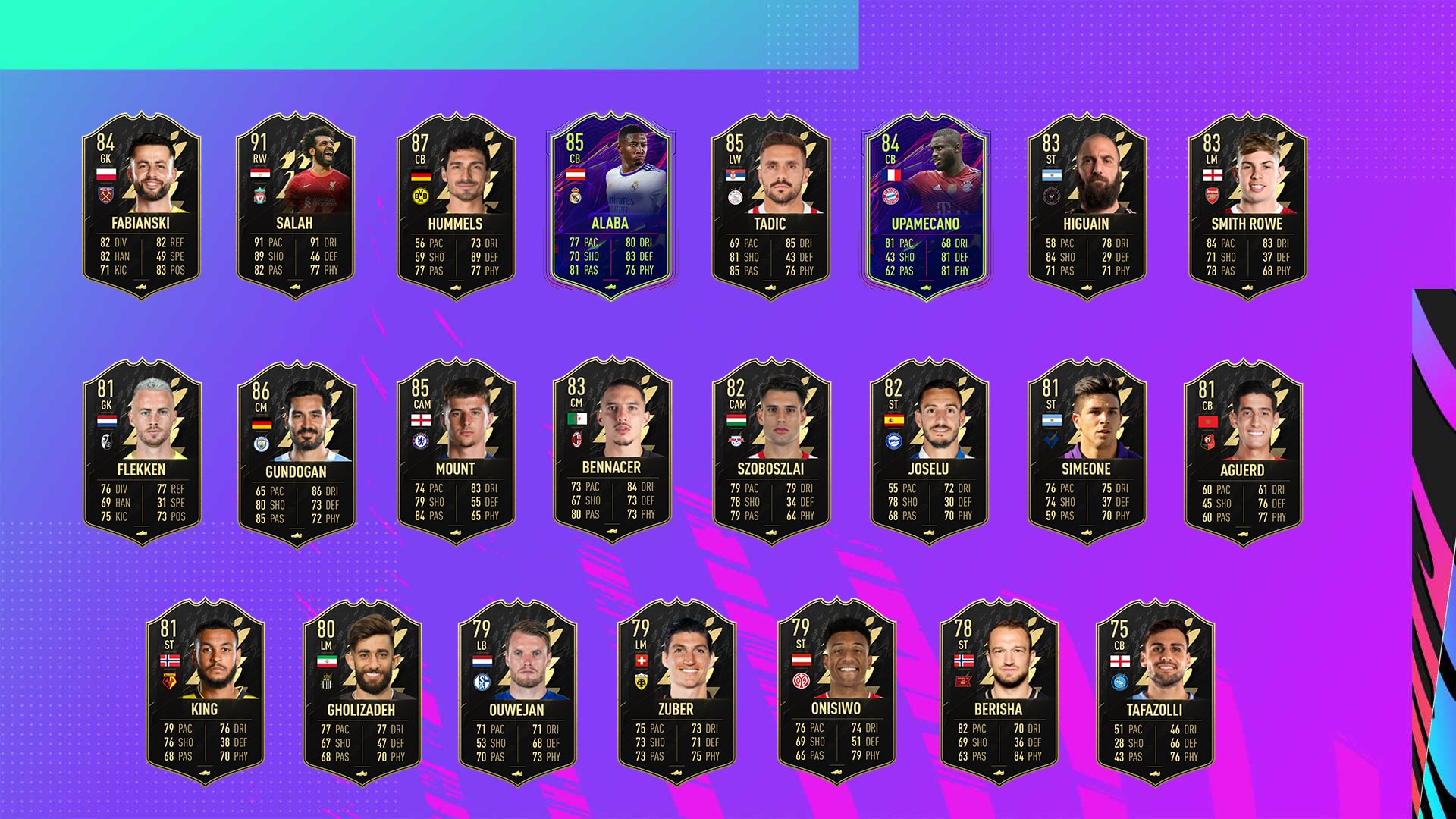 Top candidates for week 6
Mohamed Salah (Liverpool FC, Egypt) – 91
Ilkay Gündogan (Manchester City, Germany) – 86
David Alaba OTW (Real Madrid, Austria) – 85
Dayot Upamecano OTW (Bayern Munich, France) – 84
Those who follow English football were treated to a true football spectacle on Sunday evening. In the duel between Manchester United and Liverpool FC, five goals were scored, but all of them hit the goal of United goalkeeper De Gea. The man of the evening was once again the Egyptian striker Mohamed Salah, who is currently in impressive form. He scored three goals and set up another for team-mate Naby Keita. After his performance in TOTW 1, Salah could be honoured for a second time as early as Week 6.
After a sensational start to the season, Brighton's Seagulls suffered a minor setback in a 4-1 home defeat to title contenders Manchester City on Saturday. Since City shooting star Phil Foden, who was involved in three goals, already featured in TOTW 3, he will probably not be included this week. Instead, our tip goes to Ilkay Gündogan. The German international scored the goal for 1:0 and provided good ideas in midfield. For us, a candidate for the team of the week.
In the annual top duel of the Spanish league between FC Barcelona and Real Madrid, ex-Munich player David Alaba scored an important goal. As is very often the case, the defender joined in the offensive play of the Madrilenians and scored the 1:0 after a 70-metre sprint. Although teammate Lucas Vázquez also scored, since Alaba scored as a defender, he is the more likely candidate for us.
Of course, Bundesliga title favourites Bayern Munich also delivered again last week. This time it was newcomer Dayot Upamecano, who in the 4:0 win against TSG Hoffenheim was able to recommend himself for the upcoming team of the week with two assists. In addition, he kept a clean sheet at the back and played a solid game. With an Inform, Upamecano would secure his first OTW upgrade.