Counter-Strike: Global Offensive can still inspire after eight years For the first time, the number of simultaneous players has risen to over 900,000, far exceeding the number of competitors PUBG and Dota 2.
Counter-Strike: Global Offensive was able to set a new record of simultaneously active players in January. In January, the game reached an amazing high of over 810,000 players, which has now been surpassed. One reason for this could be the active operation "Shattered Web", which is now in its twelfth week.
On the other hand, the fact that the game has been free since December 2018 could also speak for itself. According to Valve, the currently running operation is supposed to run for another four weeks, but how it will continue after that is currently not known.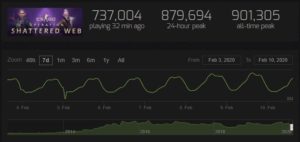 The last record for the most simultaneous players was in April 2016 with 850,000 simultaneous players in Counter-Strike: Global Offensive. At the time, Operation Wildfire was in full swing and, when it was released, included the long-awaited overhaul of Nuke. On top of that, the MLG Columbus 2016 Major ended on April 3rd, still one of the most watched major events in CS:GO today.
CSGO hit a new all-time highest peak for player count. pic.twitter.com/nlLPeBun1E

— Hac1 (@DonHaci) February 8, 2020
But Counter-Strike was not only able to set a new record at the 24-hour peak. While in January 2019 an average of 400,000 players were active in CS:GO at the same time for the first time, one year later more than 500,000 players are online at once.
Since October 2019, CS:GO has even recorded higher average player numbers than Valves MOBA Dota 2, and the Battle-Royale game PUBG has also seen declining player numbers in recent months. The hype that the game caused for its release in March 2017 has now died down.