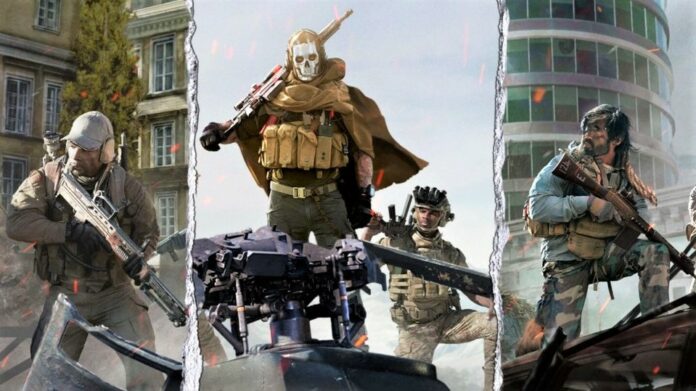 In the first patch notes for Season 3, Raven Software reveals which nerfs they plan to respond to the loud player criticism with soon.
Call of Duty: Warzone has problems with its weapons. This has not been a secret for a long time, and the community has been complaining about overpowered guns for months now. Most recently, the new Sykov pistol was criticized because it allows for absurdly fast kills.
But in Season 3, things are finally supposed to get better thanks to nerfs. The developers revealed this a few days before the update in short, but very informative patch notes. What exactly was announced in them?
These weapons will be reworked in Season 3
On Twitter, developer Raven Software responded to the well-known streamer Jack "CouRage" Dunlop, who demands a long list of changes. Here's the official response:
There are a lot of changes coming soon that we think you'll be happy to see:

• An adjustment to Roze
• A significant balance pass to weapons such as the Tac Rifle Charlie, M16, FFAR 1, and Sykov
• Fix for MW weapon perks + sniper glint
• Change to how you acquire the RC-XD

— Raven Software (@RavenSoftware) April 16, 2021
The developer promises the following adjustments to Warzone:
An adjustment to the controversial operator Roze, which is extremely hard to see in parts
A significant balance adjustment for weapons like the Tac Rifle Charlie, the M16 rifle, the FFAR 1 and the new Sykov pistols.
A fix for perks that originated in Modern Warfare and for the (missing) flashing of snipers
One killstreak, namely the RC-XD remote controlled explosive car, you will get differently in the future
Further, Raven Software writes:
"We've got a lot more planned, including some big surprises next week, but if you want to talk further about anything specific, write to us privately."
Exact release dates and details for these changes have not been announced, but presumably some are already coming with the big Season Update. The surprises mentioned could be the leaked new Verdansk map, which is supposed to appear with Season 3:
CoD Warzone & Cold War: What leaks already reveal about Season 3
What does that mean specifically? Raven Software is obviously very aware of the ongoing criticism from players. Season 3 should probably be the first step in a better direction: The aforementioned weapons have been causing trouble for quite some time, because they are far superior to most others. They make for an extremely low time-to-kill, which deters many. So fair nerfs would certainly be welcomed by most players.
The fact that such announcements about the weapon balance are already published before the start of the season is hopefully a good sign for the future. So far, the communication between publisher Activision, the developers and the community has often left a lot to be desired.