The switch to Free2Play brought the successful Battle Royale shooter many new players. But not all fans are happy about it by a long shot.
Pay no money, still play PUBG on PC: The Free2Play conversion of the former high-flyer Playerunknown's Battlegrounds (now PUBG Battlegrounds) is complete. And the promotion brought numerous new players to the battle royale shooter, so that live user numbers almost doubled.
And especially the now speedy matchmaking finds its supporters in the community. However, players criticise the implications of the Free2Play model.
How have the player numbers developed?
PUBG has averaged around 360,000 concurrent active users in recent months. Anything but a lightweight in Steam dimensions, but also very far from the former peak of 3.2 million.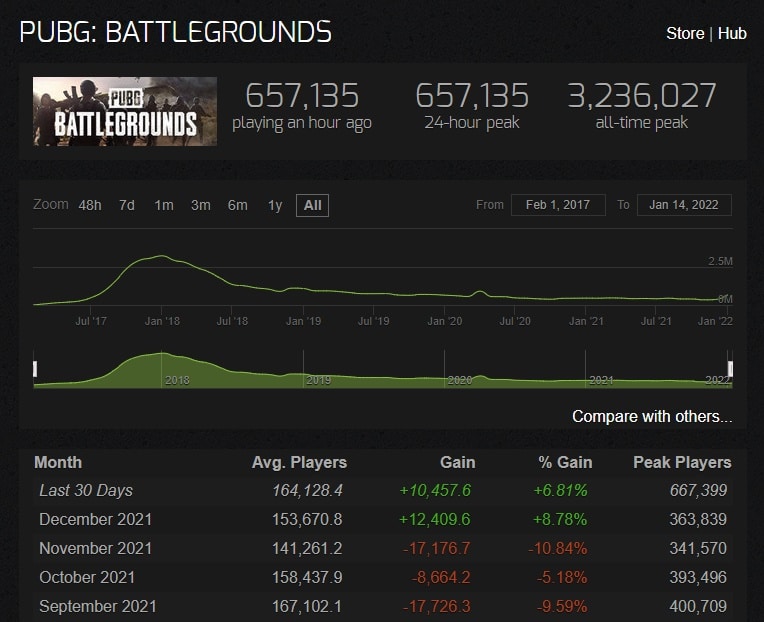 The Free2Play release on 12 January 2022 now ensures (as expected) a fat plus on the player account. The peak value of the last 24 hours is 657,135 simultaneously active users. Not too surprising for a free release, but in total definitely worth mentioning.
What's new? Here you can see the fresh PUBG trailer with the new features in update 15.2:
What is the criticism?
The (Steam reviews) split pretty much down the middle between positive and negative, both overall and limited to the last 30 days.
The cheater issue is one of the most common among the criticisms: Developer Krafton has been confronted with the accusation of doing too little against cheaters in PUBG for years. The Free2Play release has now reignited the debate. No wonder, after all, Free2Play is often associated with an increased emergence of hackers, since you can create a new account relatively easily and without extra costs if you are banned.
However, Krafton addresses the problem quite fundamentally by dividing free players and paying customers into Basic and Plus categories. Buyers can also play together exclusively with other buyers in matchmaking. But that does not silence the criticism.
Other players also see the sunny side of the Free2Play release: matchmaking is now noticeably faster because more players are simply looking for a match. (On Reddit) some users welcome the new players.
☻
By the way, the PUBG creator is going his own way again in the meantime. And he wants to drive creative innovation with a bold concept:
PUBG creator wants to compete with DayZ – with gigantic AI Open Worlds