Afgelopen weekend vond de tweede week van de Call of Duty League (CDL) plaats in Londen. De gastheren London Royal Ravens bereikten de halve finale en Chicago Huntsmen bevestigde hun rol als favoriet.
Het CoD-team Chicago Huntsmen is momenteel het team van het uur in de CDL. Eerst domineerden ze de Launch Week, en afgelopen weekend de tweede speeldag in Londen.
WE ARE YOUR FIRST EVER @CODLEAGUE HOME SERIES CHAMPIONS!#BeTheHunter pic.twitter.com/ACXHaN2M89

— OpTic Chicago (@OpTicCHI) February 9, 2020
Europeanen halen de halve finale
Het Parijse Legioen en London Royal Ravens doen het tot nu toe erg goed. Zowel in de eerste als in de tweede week wisten beide teams punten te verzamelen voor het algemeen klassement en plaatsten ze zich aan de top van de tafel.
We can still hear you London, see you in June. ❤️ pic.twitter.com/sASR488WaP

— Call of Duty League (@CODLeague) February 10, 2020
De gastheer, London Royal Ravens, kwam zonder problemen door de groepsfase heen, maar verloor in de halve finale van Dallas Empire.
De spelers uit Dallas werden vervolgens in de finale tegen Chicago Huntsmen 0-3 gestuurd.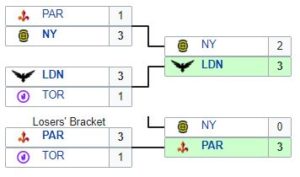 De Parijzenaars, die in dezelfde groep zaten als de Royal Ravens, verloren hun eerste wedstrijd tegen de New Yorkse Subliners, maar wisten de Lower Bracket voor zich te winnen.
Ze namen ook wraak voor de eerste nederlaag van de New Yorkers. Ze versloegen de Subliners, die hun eerste wedstrijd met 3-1 hadden gewonnen, ook met 3-1 in hun tweede wedstrijd.
In de halve finale was de winnaar Chicago Huntsmen. De legionairs slaagden erin om twee kaarten van de Chicago-spelers te pakken te krijgen. Maar in de laatste ronde verloren ze 0-6 en verloren ze meer dan duidelijk.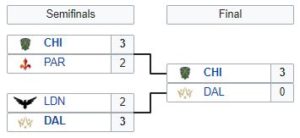 Hoewel de twee Europese teams niet wonnen, konden ze toch belangrijke punten verzamelen en staan ze na twee weken in de top vier van de tabel. We kunnen dus tevreden zijn met de algemene prestaties.