Lo scorso fine settimana si è svolta a Londra la seconda settimana della Call of Duty League (CDL). I padroni di casa dei London Royal Ravens hanno raggiunto le semifinali e i Chicago Huntsmen si sono confermati i favoriti.
Il team CoD Chicago Huntsmen è attualmente la squadra del momento nella CDL. All'inizio hanno dominato la Settimana del Lancio, e lo scorso fine settimana il secondo giorno di gara a Londra.
WE ARE YOUR FIRST EVER @CODLEAGUE HOME SERIES CHAMPIONS!#BeTheHunter pic.twitter.com/ACXHaN2M89

— OpTic Chicago (@OpTicCHI) February 9, 2020
Gli europei arrivano alle semifinali
La Legione di Parigi e i Corvi reali di Londra stanno andando molto bene finora. Sia nella prima che nella seconda settimana entrambe le squadre sono riuscite a raccogliere punti per la classifica generale e si sono piazzate in cima alla classifica.
We can still hear you London, see you in June. ❤️ pic.twitter.com/sASR488WaP

— Call of Duty League (@CODLeague) February 10, 2020
I padroni di casa, i London Royal Ravens, hanno superato la fase a gironi senza problemi, ma in semifinale hanno perso contro l'Impero di Dallas.
I giocatori di Dallas sono stati poi espulsi in finale contro i Chicago Huntsmen per 0-3.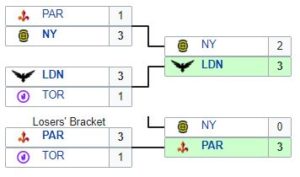 I parigini, che erano nello stesso gruppo dei Royal Ravens, hanno perso la loro prima partita contro i New York Subliners ma sono riusciti a vincere la Lower Bracket.
Si sono anche vendicati della sconfitta iniziale dei newyorkesi. Hanno sconfitto i Subliners, che avevano vinto la loro prima partita per 3-1, anche loro per 3-1 nella seconda partita.
In semifinale, il vincitore è stato il cacciatore di Chicago. I legionari sono riusciti a prendere due mappe dei giocatori di Chicago. Ma nell'ultimo turno, hanno perso 0-6 e hanno perso più che chiaramente.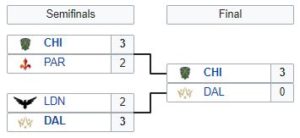 Anche se le due squadre europee non hanno vinto, sono comunque riuscite a raccogliere punti importanti e dopo due settimane sono tra le prime quattro in classifica. Quindi possiamo essere soddisfatti della performance complessiva.