VALORANT maakt al grote golven voor het loslaten. We hebben alle informatie over Riots laatste titel.
.
Wanneer wordt VALORANT gepubliceerd?
De fans hoeven niet lang geduld te hebben, want Riot noemde de zomer van dit jaar als tijdvenster. Maar er is nog geen vaste releasedatum. Zodra het bekend wordt, houden we je natuurlijk op de hoogte.
VALORANT ist Riot Games' charakterbasierter 5v5-Taktikshooter. Das Spiel erscheint im Sommer 2020.https://t.co/qsf57U7zKJ pic.twitter.com/7pQUhw0yQs

— VALORANT (@valorantde) March 2, 2020
Hoeveel zal VALORANT kosten?
Net als de Riot Flagshiff League of Legends, zal VALORANT vrij zijn om te spelen. Geïnteresseerde spelers kunnen het spel in de zomer van 2020 direct downloaden en spelen. Het spel zal waarschijnlijk worden gefinancierd door micro-transacties zoals karakter- en wapenhuiden.
Welke karakters kunnen bij VALORANT worden gespeeld?
Tot nu toe zijn er acht karakters onthuld. Echter, er zijn geen parallellen met de League of Legends universum, VALORANT vindt plaats in een andere wereld met verschillende karakters.
Een gedetailleerde lijst van de tot nu toe bekende personages en hun capaciteiten zal binnenkort op esports.com worden geplaatst.
Welke wapens zijn beschikbaar in VALORANT?
Er is nog geen officiële lijst. Maar in de gameplay-trailer kun je al tal van schietijzers identificeren. Net als bij Counter-Strike kunnen de wapens worden onderverdeeld in zes categorieën: pistolen, SMG's, jachtgeweren, geweren, sluipschuttersgeweren, machinegeweren.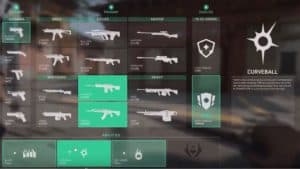 Naast wapens kun je ook vaardigheden en bepantsering kopen. Het is nog niet bekend hoe de wapens precies van elkaar zullen beslissen. Als Rellen weer CS:GO als leidraad gebruikt, zullen de verschillen aanzienlijk zijn.
Zal VALORANT ook beschikbaar zijn voor consoles?
Tot nu toe heeft Riot alleen maar bevestigd dat er een PC-vrijgave komt. Met de komende release van Wild Rift, een LoL offshoot voor consoles en mobiele telefoons, zou VALORANT in de toekomst wel eens een haven kunnen krijgen. Daar is echter nog niets over bekend.
Zodra we meer informatie hebben, zullen we het artikel updaten om u op de hoogte te houden.
Kijk je al uit naar VALORANT? Vertel ons over de sociale media!