Giusto in tempo per il lancio della nuova modalità scontro League of Legends, Twitch annuncia la settimana della League of Legends. Oltre ai rivali di Twitch, la piattaforma di streaming ha presentato un nuovo strumento.
Have you ever wanted to see the @LeagueOfLegends scoreboard while watching streams on Twitch?

Starting February 20th you can. pic.twitter.com/5j1jCL42Uz

— Gene Chorba (@gchorba) February 17, 2020
Maggiori informazioni per gli spettatori
Il nuovissimo Live Tracker per League of Legends su Twitch è senza dubbio il clou della settimana a tema. Il nuovo strumento sarà disponibile per tutti gli streamer a partire dal 20 febbraio 2020. Con questo strumento, gli spettatori avranno ora a disposizione molte più informazioni.
Sui canali Twitch che incorporano il nuovo tracker, gli utenti potranno ora accedere a una grande quantità di informazioni con la semplice pressione di un pulsante. Per esempio le build di oggetti, i livelli dei campioni e molte altre statistiche.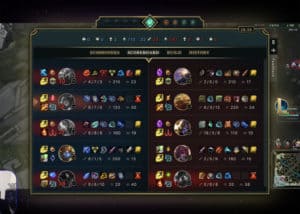 Ma non vengono visualizzate solo informazioni sul gioco attualmente in streaming. I giochi del passato possono essere recuperati anche tramite il Live Tracker: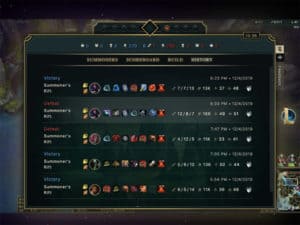 Lo strumento di informazione supplementare completa perfettamente l'esperienza di visualizzazione dei flussi LoL su Twitch. Invece di dipendere dallo streamer o da altri siti web come in passato, tutte le statistiche di gioco rilevanti sono ora disponibili in un unico posto su Twitch stesso.
Tempismo perfetto per guardare gli streamer su Twitch nella nuova modalità torneo League of Legends Clash. Questo inizierà due giorni dopo il lancio del Live Tracker, e dal 22.02.2020 tutti i giocatori potranno competere in modalità torneo.
75.000 dollari USA in premio in denaro a Twitch Rivals
Oltre al nuovo strumento, Twitch sta organizzando un altro torneo comunitario per gli streamer di League of Legends. 80 streamer si sfideranno in un torneo con 16 squadre e giocheranno per un montepremi totale di 75.000 dollari.
Imane "Pokimane" Anys e Tyler "tyler1" Steinkamp sono tra coloro che giocheranno. Come bonus speciale, gli spettatori possono vincere i biglietti per la modalità LoL's Clash durante i Twitch Rivals. Finché gli utenti hanno il loro account antisommossa collegato all'account di Twitch, possono vincere un biglietto semplicemente sintonizzandosi sui canali di Twitch Rivals o sugli streamer partecipanti. Quindi questa settimana vale la pena di visitare i canali LoL su Twitch.
Siete già in attesa delle nuove opzioni di visualizzazione con il Live Tracker? Parlaci dei social media!