Il progetto FPS di Riot Games continua ad accendere l'entusiasmo dei tifosi. Dopo che il commentatore di CS:GO HenryG si era espresso positivamente l'ultima volta, ora sembrano esserci nuove fughe di notizie.
Quando si tratta di notizie sui giochi annunciati, internet è noto per essere particolarmente intraprendente quando si tratta di cercare informazioni. Quindi ora dovrebbe esserci una fuga di notizie completa anche per il Progetto Riots A.
Apparently some PROJECT A images of some of his characters were leaked apart from the fact that Riot Games has recently registered a trademark for the name 'VALORANT' 🤔 @Spideraxe30 @osevno @Keppworks @wandakunpls @papuchochoe pic.twitter.com/KhiloGoawh

— Jumaralo Hex (@JumaraloHexCore) February 24, 2020
Schermata Geleakter?
Lo screenshot che ora è apparso su Internet ci mostra una panoramica del campione "Sentinel Sage".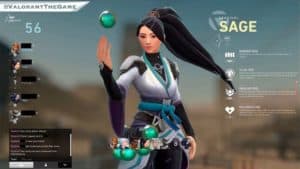 Non solo vediamo una lista di abilità con un quarto "Ultimate" particolarmente forte alla fine, ma si può già vedere la funzione di chat e altri elementi di interfaccia. Nella comunità, la speculazione è iniziata immediatamente: Riesci a vedere la selezione del campione nella schermata? Il 56 in alto a sinistra è un conto alla rovescia?
E naturalmente la domanda più importante: la fuga di notizie è reale? Riot non ha ancora commentato e probabilmente non lo farà.
Il gioco si chiamerà "Valorant"?
Un'altra novità riguarda il futuro titolo del gioco. Gli utenti pieni di risorse su Twitter hanno scoperto che Riot Games si è assicurato i diritti di marchio su di esso. I fan hanno poi continuato e hanno scoperto che un account chiamato @PlayVALORANT poteva già essere trovato sul servizio di messaggi brevi. Su questo conto potete anche trovare un criptico due sull'immagine dell'intestazione. Un altro suggerimento? Le speculazioni su questo non si fermano.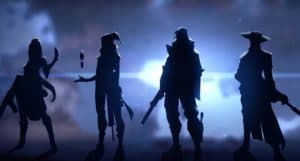 C'è anche un canale chiamato "Valorant" sulla popolare piattaforma di streaming Twitch. Questo canale ha lo stesso design del canale Twitter e aumenta la probabilità che il Progetto A venga effettivamente chiamato Valorant.
Come sempre con tali fughe di notizie si dovrebbe fare attenzione, ma i segnali stanno crescendo, e presto ci sarà una buona parte di nuove informazioni sul "Progetto A".
Cosa ne pensi delle perdite? Diccelo tramite i social media!