Le projet FPS de Riot Games continue d'enflammer le battage des fans. Après que le commentateur de CS:GO, HenryG, s'était exprimé positivement la dernière fois, il semble qu'il y ait maintenant de nouvelles fuites.
Lorsqu'il s'agit d'informations sur les jeux annoncés, l'internet est connu pour être particulièrement ingénieux dans la recherche d'informations. Il devrait donc maintenant y avoir une fuite globale pour le projet émeutiers A, également.
Apparently some PROJECT A images of some of his characters were leaked apart from the fact that Riot Games has recently registered a trademark for the name 'VALORANT' 🤔 @Spideraxe30 @osevno @Keppworks @wandakunpls @papuchochoe pic.twitter.com/KhiloGoawh

— Jumaralo Hex (@JumaraloHexCore) February 24, 2020
Capture d'écran de Geleakter ?
La capture d'écran qui est maintenant disponible sur Internet nous montre un aperçu du champion « Sentinel Sage ».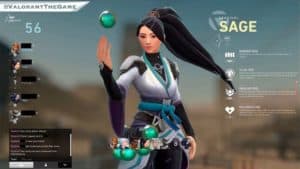 Non seulement nous voyons une liste de capacités avec un quatrième « Ultime » particulièrement fort à la fin, mais la fonction de chat et d'autres éléments d'interface sont déjà visibles. Dans la communauté, la spéculation a immédiatement commencé : Pouvez-vous voir la sélection des champions dans la capture d'écran ? Le 56 en haut à gauche est-il un compte à rebours ?
Et bien sûr, la question la plus importante : la fuite est-elle réelle ? L'émeute n'a pas encore fait de commentaires à ce sujet et ne le fera probablement pas.
Le jeu s'appellera-t-il « Valorant » ?
Une autre nouvelle concerne le futur titre du jeu. Des utilisateurs ingénieux de Twitter ont découvert que Riot Games a obtenu les droits de marque pour cette marque. Les fans ont ensuite découvert qu'un compte appelé @PlayVALORANT pouvait déjà être trouvé sur le service de messages courts. Sur ce compte, vous pouvez également trouver un deux cryptique sur l'image d'en-tête. Un autre indice ? Les spéculations à ce sujet ne s'arrêtent pas là.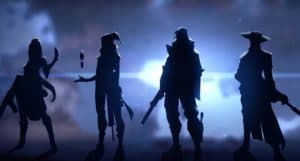 Il existe également une chaîne appelée « Valorant » sur la populaire plateforme de streaming Twitch. Cette chaîne a le même design que la chaîne Twitter et augmente la probabilité que le projet A soit effectivement appelé Valorant.
Comme toujours avec de telles fuites, vous devez être prudent, mais les signes se multiplient pour indiquer qu'il y aura bientôt une bonne partie des nouvelles informations sur le « Projet A ».
Que pensez-vous des Fuites ? Dites-le nous via les médias sociaux !