by in
Today, Tuesday, the remastered version of Call of Duty: Modern Warfare 2 will be released. This suggests a leak from PSN.
The shop page, which is now offline again, was put online too early for CoD:MW2. Also the trailer was already shown on PSN.
What is to come
For the fans there is a digitally enhanced campaign of the shooter from 2009, plus some extras like skins for weapons and with Ghost also a new operator, whom many already know from the Battle Pass.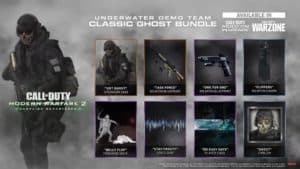 The game is supposed to cost 24.99 euros and for that "only" the graphically improved campaign from eleven years ago is supposed to be available. The game will then be released under the name "CoD: Modern Warfare 2 – Campaing Remastered".
Whether the Remaster will really be released today, Tuesday, is unclear. The shop page is meanwhile offline again.