Juste à temps pour le lancement du nouveau mode clash de la League of Legends, Twitch annonce la semaine de la League of Legends. En plus des rivaux de Twitch, la plateforme de streaming a également dévoilé un tout nouvel outil.
Have you ever wanted to see the @LeagueOfLegends scoreboard while watching streams on Twitch?

Starting February 20th you can. pic.twitter.com/5j1jCL42Uz

— Gene Chorba (@gchorba) February 17, 2020
Plus d'informations pour les spectateurs
Le tout nouveau Live Tracker de la League of Legends on Twitch est sans aucun doute LE temps fort de la semaine thématique. Le nouvel outil sera disponible pour tous les streamers à partir du 20 février 2020. Grâce à cet outil, les téléspectateurs disposeront désormais de beaucoup plus d'informations.
Sur les chaînes Twitch qui intègrent le nouveau tracker, les utilisateurs pourront désormais accéder à une multitude d'informations en appuyant sur un bouton. Par exemple, les constructions d'objets, les niveaux de champion et bien d'autres statistiques.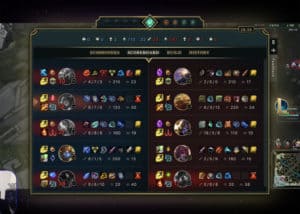 Mais il n'y a pas que les informations sur le jeu actuellement diffusé en continu qui sont affichées. Les jeux passés peuvent également être récupérés via le Live Tracker :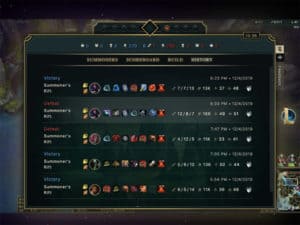 L'outil d'information supplémentaire complète parfaitement l'expérience du téléspectateur des flux LoL sur Twitch. Au lieu d'être dépendant du streamer ou d'autres sites web comme par le passé, toutes les statistiques de jeu pertinentes sont désormais disponibles en un seul endroit sur Twitch lui-même.
Un timing parfait pour regarder les streamers sur Twitch dans le nouveau mode tournoi League of Legends Clash. Cela commencera deux jours après le lancement du Live Tracker, et à partir du 22.02.2020, tous les joueurs pourront s'affronter en mode tournoi.
75 000 dollars US de prix chez Twitch Rivals
En plus de ce nouvel outil, Twitch organise un autre tournoi communautaire pour les banderoles de la League of Legends. 80 banderoles participeront à un tournoi avec 16 équipes et joueront pour une cagnotte totale de 75 000 dollars.
Imane « Pokimane » Anys et Tyler « tyler1 » Steinkamp font partie de ceux qui joueront. En prime, les spectateurs peuvent gagner des billets pour le mode Clash de LoL pendant les Twitch Rivals. Tant que les utilisateurs ont leur compte émeute connecté au compte Twitch, ils peuvent gagner un ticket en se connectant simplement aux chaînes de Twitch Rivals ou des streamers participants. Cette semaine, il est donc particulièrement intéressant de visiter les chaînes de la LoL sur Twitch.
Vous êtes déjà impatient de découvrir les nouvelles options de visionnage avec le Live Tracker ? Parlez-nous des médias sociaux !