We wanted to know from you how stable the role-playing game is running before patch 1.3. Many readers experience few bugs, but have clear wishes and criticisms
How stable is Cyberpunk 2077 after the last big patch 1.2? That's exactly what we wanted to know from you recently – and over 3000 people took part in the poll. Thank you for voting and commenting! We share the results here in this article.
Few technology problems for most…
You can see the results of our poll here: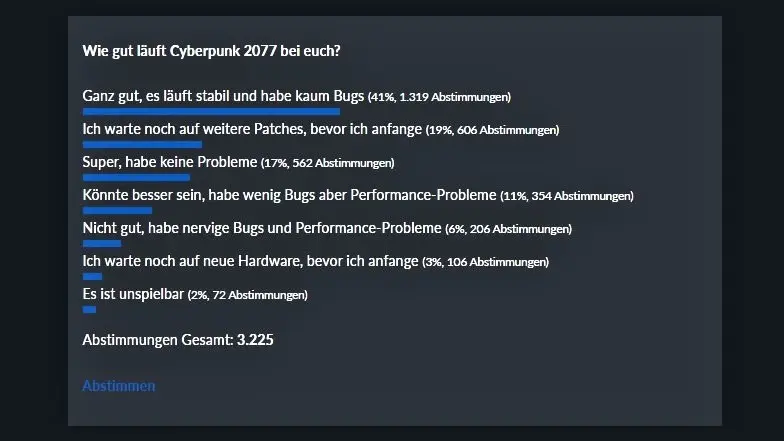 Few performance problems, few bugs: For most of you, namely 41 percent, Cyberpunk 2077 runs largely without problems, for 17 percent even "super". Overall, 58 percent of the participants rate their gaming experience positively – at least from a technical perspective. Only 2 percent of you state that Cyberpunk 2077 is playable for you, for another 6 percent it does run, but quite poorly.
PC is ahead: Of course, PC players benefit from the fact that the game ran more stable on their home computers than on consoles from the very beginning. But things have improved there too, in the meantime Cyberpunk 2077 is also back in the Playstation Store.
Little changes since release: The survey clearly shows that Cyberpunk 2077 doesn't cause you many problems overall – which was already apparent shortly after release. In our last survey on this topic, the numbers looked surprisingly similar, apparently not much has changed for you through the patches.
Some are still waiting: Almost one fifth of all participants prefer to wait for further patches before playing. Several months have passed since the last major update, 1.2, and we expect the next update, 1.3, at the beginning of August. However, you should take a supposed leak with a grain of salt.
A look at the comments clearly reveals that some of you are not satisfied with Cyberpunk 2077, even though it runs pretty smoothly.
… but still many concerns
The biggest criticism many of you are voicing under the article is a lack of new content. Most seem to agree on that, regardless of how smoothly the game runs for you: It's time for real innovation. While some of you are quite frustrated with Cyberpunk 2077, others still have high hopes. A selection of your votes:
One comment with many upvotes criticises that no new content has been added yet, but also reaps quite a lot of headwind. Ebony Boy writes:
"Over half a year later still no new content …"
Below that, SNAAAKE, among others, commented:
"First let the game run reasonably, then you can implement new content. Enough developers have made the mistake of not doing that."
The developers certainly had to work on getting to grips with the mixed technical state first, especially on the LastGen consoles. Only after numerous bug fixes and performance improvements was the game allowed to return to the Playstation Store – where it went straight to the top of the download charts.
After this success, hopefully the first of the promised free DLCs will soon be released, which are supposed to bring smaller content changes to the game. We already have clear wishes for this:
However, some of you are looking into the future with little optimism. This is the case with Zord, for example:
"I am extremely disappointed with CDPR. The launch of the game was bad enough, but what they delivered after that is absolutely inadequate. It's been over seven months since the release and communication with buyers is practically non-existent. What bugs are still there, when they will be fixed and what the next steps will be are not communicated at all. The message here is, as far as I can remember, the first list of open bugs that they have published and it is almost certainly only the tip of the iceberg. Currently, I really can't see myself buying an addon or DLC."
Lost trust and worries about the future: In many comments you write that you fear CDPR will soon abandon Cyberpunk 2077 and not release any more big expansions. You would also like to see better communication about future plans – there are still no known release dates for DLCs or the announced NextGen update.
Only a few days after release, CDPR apologised to disappointed players and announced that they wanted to win back the trust.