Cyberpunk 2077's official Twitter account posted a tweet with a message in binary code on Monday. Some fans are now puzzling.
01110011 01110100 01101001 01101100 00100000 01100001 01101100 01101001 01110110 01100101 00001010! Pardon me?, you think? Then you're not alone. That's the text of a post by the developers of Cyberpunk 2077 on Twitter (now renamed X). And it caused some fans to wonder and speculate.
What does the tweet mean?
The mysterious tweet was posted on Monday.Besides the message in binary code there were two screenshots from a fan, each showing a robot:
01110011 01110100 01101001 01101100 00100000 01100001 01101100 01101001 01110110 01100101 00001010

Virtual Photography by @EricGalenzoga pic.twitter.com/uUmre7VNow

– Cyberpunk 2077 (@CyberpunkGame) October 28, 2023
Translated, the sequence of numbers means Still alive. The concrete reference to the two screenshots may not be immediately clear at first glance. In the comments, some users speculate what this message could mean.
Warning: the following paragraph contains spoilers for the main story of Cyberpunk
So writes about (Kayck):
Is V Alive? Are we still playing as V in the cyberpunk sequel? Will they still expand the cyberpunk universe? I need answers!
Other fans also wonder who the text could refer to, for example Johnny Silverhand is also thrown into the room. In fact, the answer is much more unspectacular and simple.
When asked, CD Projekt explains that it's really just a commentary on the robot: while in the first picture it was still on duty on the streets of Night City, now it's only employed as a lone kitchen worker, but it's still alive. A nice little story, but hidden messages are not to be found here
Is there more to it than that?
However, there might be a little bit more behind the robot from the screenshots: Because it looks exactly like a model that you can find in the stadium of Phantom Liberty. The so-called 1R-ONC-LAD even has a hidden quest for you when you activate it.
Although it's just a kind of scavenger hunt where you have to find certain locations based on photos, at the end there's a decision waiting for you that can lead to very different results. If you want to find the quest, look for a container in the Dogtown stadium that has sparks coming out of it, then you will find the robot: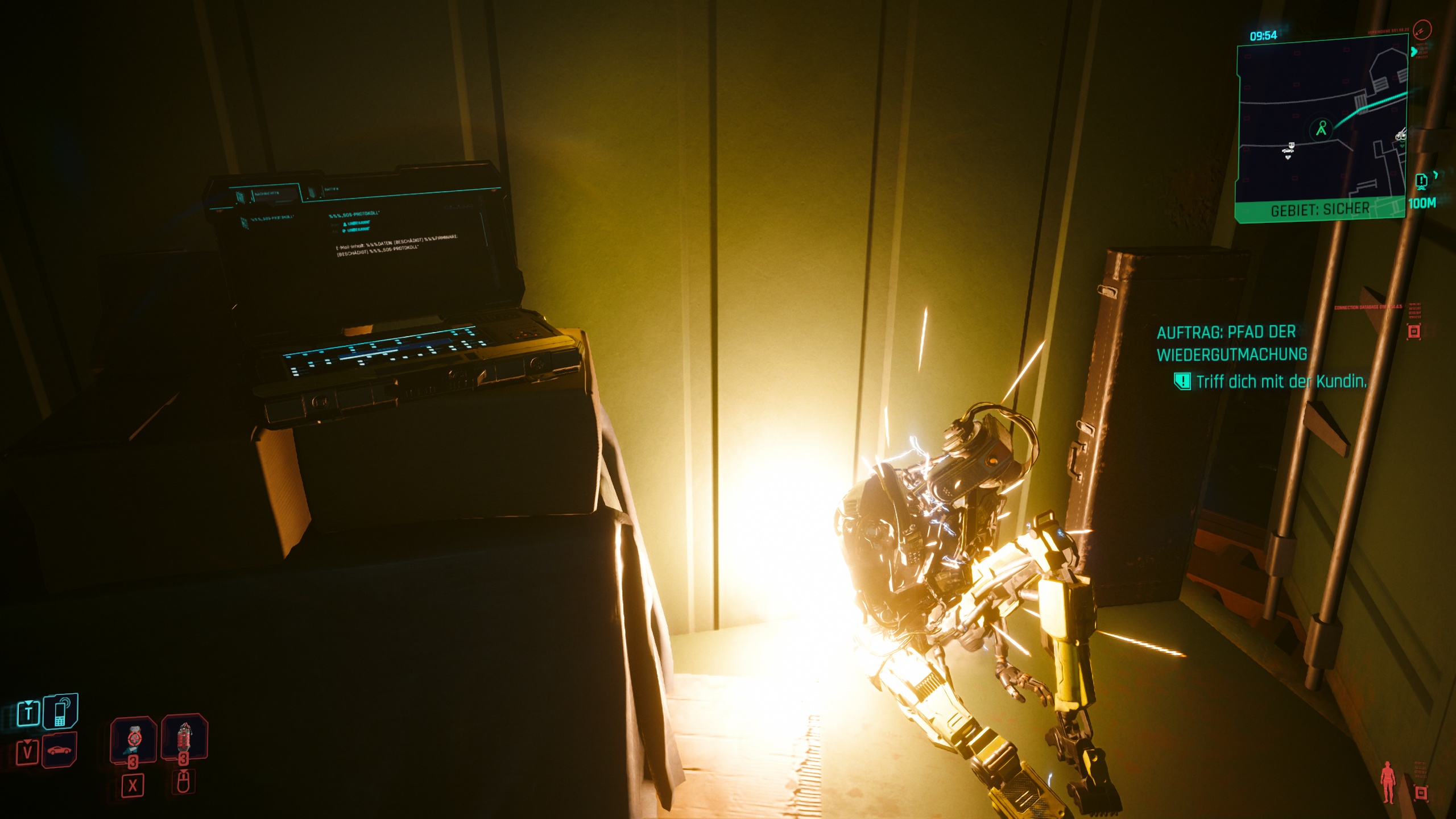 If you are still disappointed, we have a lot of other exciting secrets and theories about Night City for you. Have you heard about the great Witcher secret in Cyberpunk 2077? Or the strange Mister Blue Eyes?
Have you seen the tweet from the Cyberpunk developers? Did you assume there was more to it, or did you know from the beginning that it was just about the screenshots? Do you already know the big secrets of Cyberpunk 2077, like FF06B5 and the strange Mr. Blue Eyes? Feel free to write it to us in the comments!