Net op tijd voor de lancering van de nieuwe League of Legends clash mode, kondigt Twitch de League of Legends Week aan. Naast de Twitch-rivalen onthulde het streaming platform ook een gloednieuwe tool.
Have you ever wanted to see the @LeagueOfLegends scoreboard while watching streams on Twitch?

Starting February 20th you can. pic.twitter.com/5j1jCL42Uz

— Gene Chorba (@gchorba) February 17, 2020
Meer informatie voor toeschouwers
De gloednieuwe Live Tracker voor League of Legends op Twitch is zonder twijfel HET hoogtepunt van de themaweek. De nieuwe tool zal vanaf 20 februari 2020 beschikbaar zijn voor alle streamers. Met de tool hebben kijkers nu veel meer informatie beschikbaar.
Op de Twitch-kanalen waarin de nieuwe tracker is opgenomen, hebben gebruikers nu met één druk op de knop toegang tot een schat aan informatie. Bijvoorbeeld item builds, champion levels en vele andere statistieken.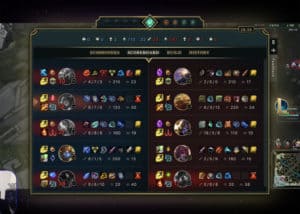 Maar niet alleen informatie over het op dat moment gestreamde spel wordt weergegeven. De voorbije wedstrijden kunnen ook via de Live Tracker worden opgehaald: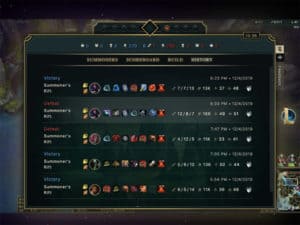 De extra informatietool rondt de kijkersbeleving van LoL streams op Twitch perfect af. In plaats van afhankelijk te zijn van de streamer of andere websites zoals in het verleden, zijn nu alle relevante spelstatistieken op één plaats beschikbaar op Twitch zelf.
Perfecte timing voor het kijken naar de streamers op Twitch in de nieuwe toernooimodus League of Legends Clash. Dit zal twee dagen na de lancering van de Live Tracker beginnen, en vanaf 22.02.2020 zullen alle spelers in staat zijn om te concurreren in toernooimodus.
75.000 US Dollar prijzengeld bij Twitch Rivals
Naast de nieuwe tool houdt Twitch nog een gemeenschapstoernooi voor de streamers in League of Legends. 80 streamers nemen deel aan een toernooi met 16 teams en spelen voor een totale prijzenpot van $75.000.
Imane "Pokimane" Anys en Tyler "tyler1" Steinkamp behoren tot degenen die zullen spelen. Als speciale bonus kunnen toeschouwers in-game tickets winnen voor LoL's Clash modus tijdens de Twitch Rivals. Zolang gebruikers hun rellenaccount gekoppeld hebben aan het Twitch-account, kunnen ze een ticket winnen door eenvoudigweg af te stemmen op de kanalen van Twitch Rivals of de deelnemende streamers. Deze week is het dus vooral de moeite waard om de LoL-zenders op Twitch te bezoeken.
Verheugt u zich al op de nieuwe kijkersmogelijkheden met de Live Tracker? Vertel ons over de sociale media!